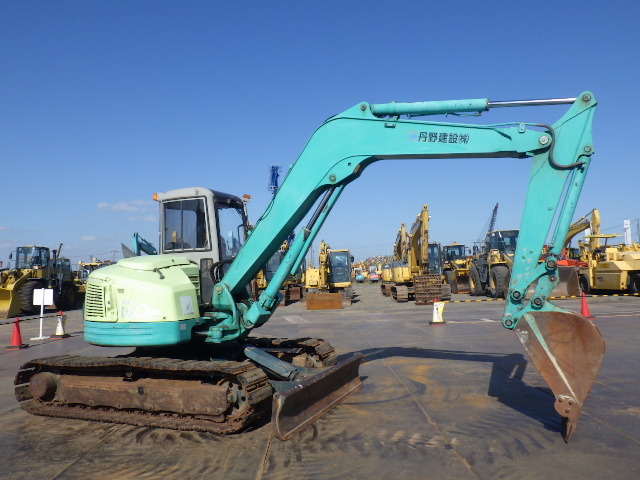 Stock ID: ACJLM-111109
FOB Price:
ASK
ASK
INQUIRY
---
Used Yanmar Heavy Machinery For Sale:
Yanmar Corporation Ltd. is well known Japanese-based manufacturer company famous for its diesel engines, gas engines, Agriculture, and construction machinery. The company was established by Yamaoka Magokichi in March 1912. Yanmar Co. Ltd.'s headquarter is situated in Osaka, Japan. Since the launch, Yanmar Co. Ltd. always leads the industry with its innovation and latest technologies. The Yanmar Corporation is continuously improving its work in every field and after 50 years of experience, Yanmar introduced and launched the world's first mini-excavator in 1968.
World's First Mini Excavator:
Yanmar introduces the world's first compact excavator in the market. The compact excavator has similar capabilities as a large excavator. It is also available in wheel or tracks. The benefit of the compact excavator is that it reduced the ground damage or reduced track marks and easily adjusts and works in small space areas. This excavator is also called mini excavator, small excavator, compact excavator, and mini ex.
Yanmar Machineries:
After a successful hit of mini excavator in the world, the company further introduces different types of machinery such as Agricultural, Marine, and construction. Agricultural includes Tiller, Rice Transplanter, Tractors, and, Combine Harvesters. Construction machinery includes wheel loaders, tracked loaders, excavators, tracked carriers, and, skid steers. Marine machinery consists of Power Boat Propulsion, Sail Boat Propulsion, and, Accessories. Yanmar also builds Gas and diesel generators.
Yanmar business in the world:
Yanmar has a very good global presence because of its high quality, tough, durable, and, powerful Products. It is a multi-national corporation it has many subsidiaries all over the world that manufacture company standard products. In Asia, there are 16 subsidiaries Philippines, Thailand, Hong Kong, Indonesia, China, Japan, Korea, Malaysia, Myanmar, India, Bangladesh, Singapore, Taiwan, Sri Lanka, Cambodia, and, Vietnam. In Europe, there are 8 subsidiaries France, Netherlands, Germany, Turkey, Italy, Russia, and, United Kingdom. In North America, there are 3 subsidiaries US, Brazil, and, Columbia.
Used Yanmar Machinery price:
Used Yanmar machinery is available on Autocraft Japan at a very reasonable price. Autocraft Japan is a japan leading used machinery exporter. All used Yanmar machinery such as wheel loaders, tracked loaders, excavators, tracked carriers, skid steers, Tiller, Rice Transplanter, Tractors, Generators and, Combine Harvesters on Autocraft Japan are well maintained and available in very good condition. Autocraft Japan accepting offers for all used machinery, Send us your best offer and purchased machinery of your choice.