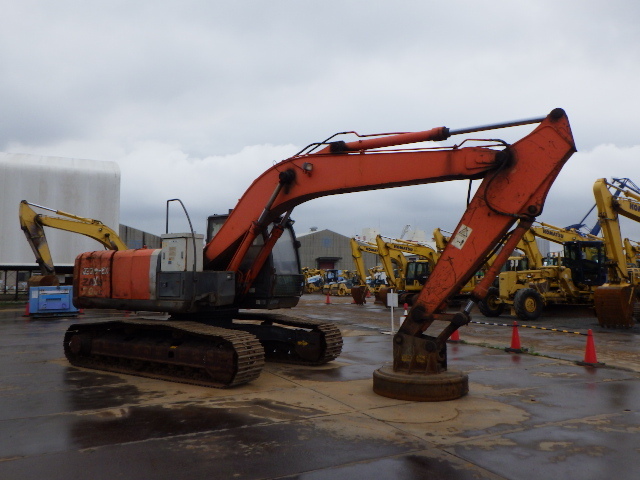 Stock ID: ACJLM-111096
FOB Price:
ASK
ASK
INQUIRY
---
Chassis Number
HCM1U100K00207054
Stock ID: ACJLM-111091
FOB Price:
ASK
ASK
INQUIRY
---
Hitachi Ltd.
Hitachi Ltd. is a well-known Japanese-based manufacturing corporation and has more the 1000 subsidiaries which include 335 overseas corporations. It was established by Namihei Odaira in 1910 Hitachi, Ibaraki, Japan. Hitachi Ltd.'s headquarter is located in Chiyoda City, Tokyo, Japan.
Used Hitachi Heavy Machinery For Sale:
Hitachi is famous for its high-quality construction machinery. The Corporation not only manufactures construction machinery it has a diverse range of products and services and makes him one of the largest corporations in the world. The Company produces more than 20,000 products worldwide. Hitachi Ltd. targeted many industries like construction machinery, electronic devices and equipment industry, laboratory equipment industry, automotive system industry, high functional material and component, home and electronics, and infrastructure system.
Japanese Top manufacturer Brand:
Hitachi is the combination of two Japanese words Hi means sun Tachi means rise. In the beginning, Hitachi is just an electrical repairing shop which is founded by Namihei Odaira in 1910. And now Hitachi is itself a brand. All company products serve one aim to contribute to the people society with the latest technology products.
Hitachi Ltd. machineries:
Hitachi Ltd. produces many construction machineries. The list of machinery includes Excavators, Mining Dump trucks, Crawler Cranes Bulldozers, Compaction Equipment, Hydraulic Excavator, Compactor, mini-excavator Wheel Loaders, Forestry Equipment, Dump Truck, and, Recycle machines. In the machinery industry, Hitachi Ltd. is the 3rd largest manufacturer in the world and has a very good global presence because of its high quality, tough, durable, and powerful machinery.
Hitachi Excavators:
Hitachi has many different types of excavators from 1-tons mini excavators to 800 tons large excavators all new excavators are built with high quality and latest technology. The Company manufacture small, medium, and large wheel and track excavators and provide a variety of attachments to cover all functions like crushing, breaking, loading, carrying, digging, grabbing, screening and cutting.
Used Hitachi Machinery price:
Used Hitachi Machinery price are very affordable and available on Autocraft Japan. All used Hitachi heavy machinery for sale is well maintained and available in good condition. On Autocraft Japan you can easily find a wide range of Tower cranes, Telehandlers, Excavators Trenchers, Tractors, Forklift, Bulldozers, Loaders, Compactors, Dump trucks, Graders and, many more other types of equipment not only Hitachi Construction machinery but also TCM, Kubota, Komatsu, CAT, Kato, Kobelco, Yanmar, UD, MG, Daewoo, Hino, Isuzu, Ssangyong, Mazda, Daihatsu, and many other manufacturer brands.